Offline sport has nearly died, but gambling is alive and needs DevOps!
Sports and esports have lots in common, as you need to train hard to win in both cases — but esports does not have the risk of traumas and health problems (if you don't take impaired eyesight into consideration). However, with the beginning of quarantine, most sports activities are put on halt and poker tournaments are postponed, while esports face the influx of new gamers who form teams and want to compete for success.
However, when some people compete for the tournament prize, other people can make money by putting bets, so the betting and gambling industry is also on the rise. From predicting the results of the gaming tournaments to winning fortunes in slot machines, online gambling platforms can offer a wide range of opportunities to fortune seekers!
Do you know, what is even more important? The quarantine is not likely to be lifted any time soon, so adapting to the new reality and providing products and services that will allow leveraging the situation in the most efficient way can be the guarantee of lasting success for your gambling business — as the world is definitely changing nowadays, and new entertainment formats are soon to emerge. Are you up to the challenge?
The problem is, online gambling platforms and live casinos are not so easy to build. Aside from obvious security and scalability requirements, there are many hurdles specific to online betting and gambling, not to mention customer loyalty program implementation. Therefore, launching a successful online casino has less to do with gambling itself and relies more on cost-efficient software product delivery processes — and this is when DevOps becomes incredibly useful.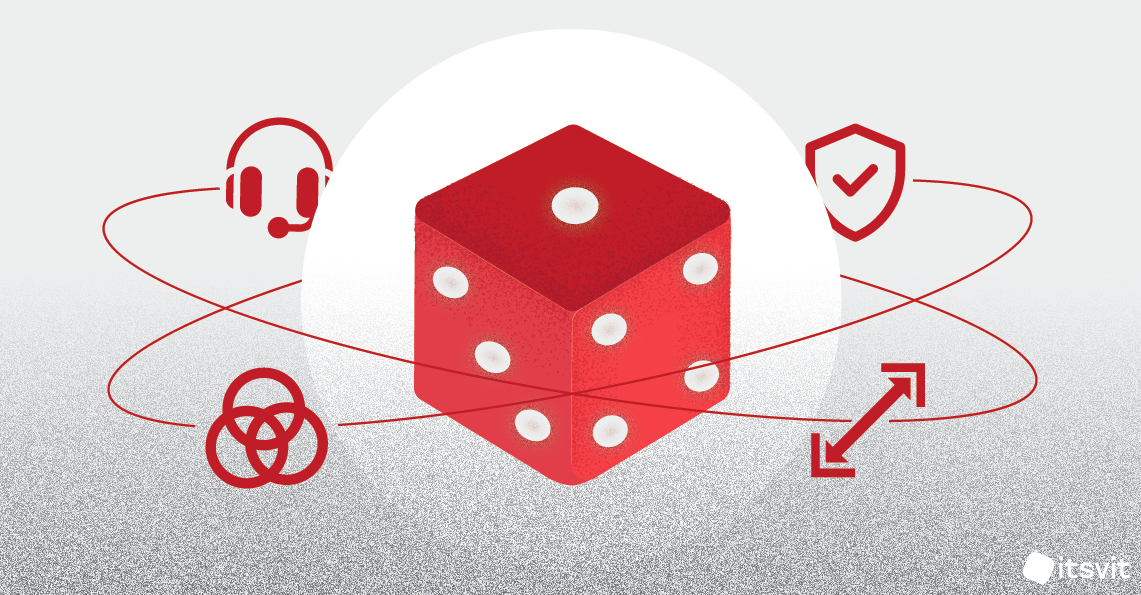 How can DevOps help online gambling businesses?
Every crisis is a window of opportunity for those daring enough to act, evolve and take their chances. Standard slots and free spins don't incite any interest in potential customers nowadays, so online gaming and betting platforms have to be innovative in order to attract and retain their audience.
There are lots of online gambling establishments that provide various entertainment options but in order to function stably and remain popular, they need a solid technical background. The product bugs must be fixed asap, the money depositing and withdrawals must be secure at all times, the customer support must be available 24/7 and be able to resolve the issues quickly. We can pinpoint several key aspects of such operations:
security
scalability
resilience
high-availability
integration with third-party modules like payment processors
timely support
Using DevOps approach to software development and infrastructure management operations, your online platform can address all of these challenges.
DevOps is a methodology of software development and ongoing infrastructure maintenance built around automating repetitive and manual tasks to increase productivity and cost-efficiency of software delivery processes.
Security is ensured through using multiple security features — from separate Docker containers for every application instance and granular configuration of Kubernetes cluster policies to hashing and encryption of data in storage.
Scalability is ensured due to using Kubernetes clusters operating autoscaling groups with Docker containers, so your platform always has enough resources to handle any number of visitors — and you don't overpay for idling instances
Resilience is ensured due to implementing CI/CD pipelines in a production environment so that even if some infrastructure component fails, it can be safely and easily rebooted without having to restart the whole platform.
High-availability is one of the core features of the cloud — your applications run inside an availability zone and can be accessed through a wide variety of IP addresses, not through a single clogged server IP address.
Integration — most DevOps teams have experience with integrating various components into modular systems and all payment processors have clear instructions on such integration. Due to using DevOps tools and workflows, a single integration takes minutes or hours, not days.
Timely support — DevOps engineers implement in-depth monitoring systems enabling them to provide timely support and quickly react to any incidents that occur.
As you can see, working with Managed DevOps Services Providers like IT Svit can be hugely beneficial for your online gambling business, as it will help develop new features and integrations quickly, ensure the security of financial transactions, the resilience of daily operations, ease of integration with third-party modules and timely support for all your requests.
These are exactly the characteristics that can help your platform turn this crisis into opportunity, handle the growing numbers of visitors and secure long-term success. Should you wish to order DevOps services from IT Svit — we would be glad to provide them!