Microservices vs Monoliths – 2021 Face-off
'Microservice architecture' is the Tech industry's A-list term. Companies are still debating on architecture types: microservice or monolithic. While monolith-style software has long existed, microservices are relatively a new-fashioned manner of designing a software system. The microservice architecture provides quite palpable advantages presenting a pretty flexible, scalable and cost-efficient method for creating software. Gigantic technology leaders like Netflix and Amazon commonly implement microservices in their apps for good reason. Monolith's way of app designing, on the other hand, is currently losing its popularity as it jeopardizes current software delivery methodologies. Today we will dig deeper into the Microservices vs Monolithic confrontation but before we do, let's look closely at each of the presented architectures.
What are monoliths?
The term 'monolith' comes from an antique portrayal of a big stone. The app and the business logic are embodied in a solitary deployable match called a monolith. Normally, a monolith comprises a traditional three-level architecture, specifically, a data set, a UI and an application itself. The server-side app usually handles all the HTTPs and executes the business logic.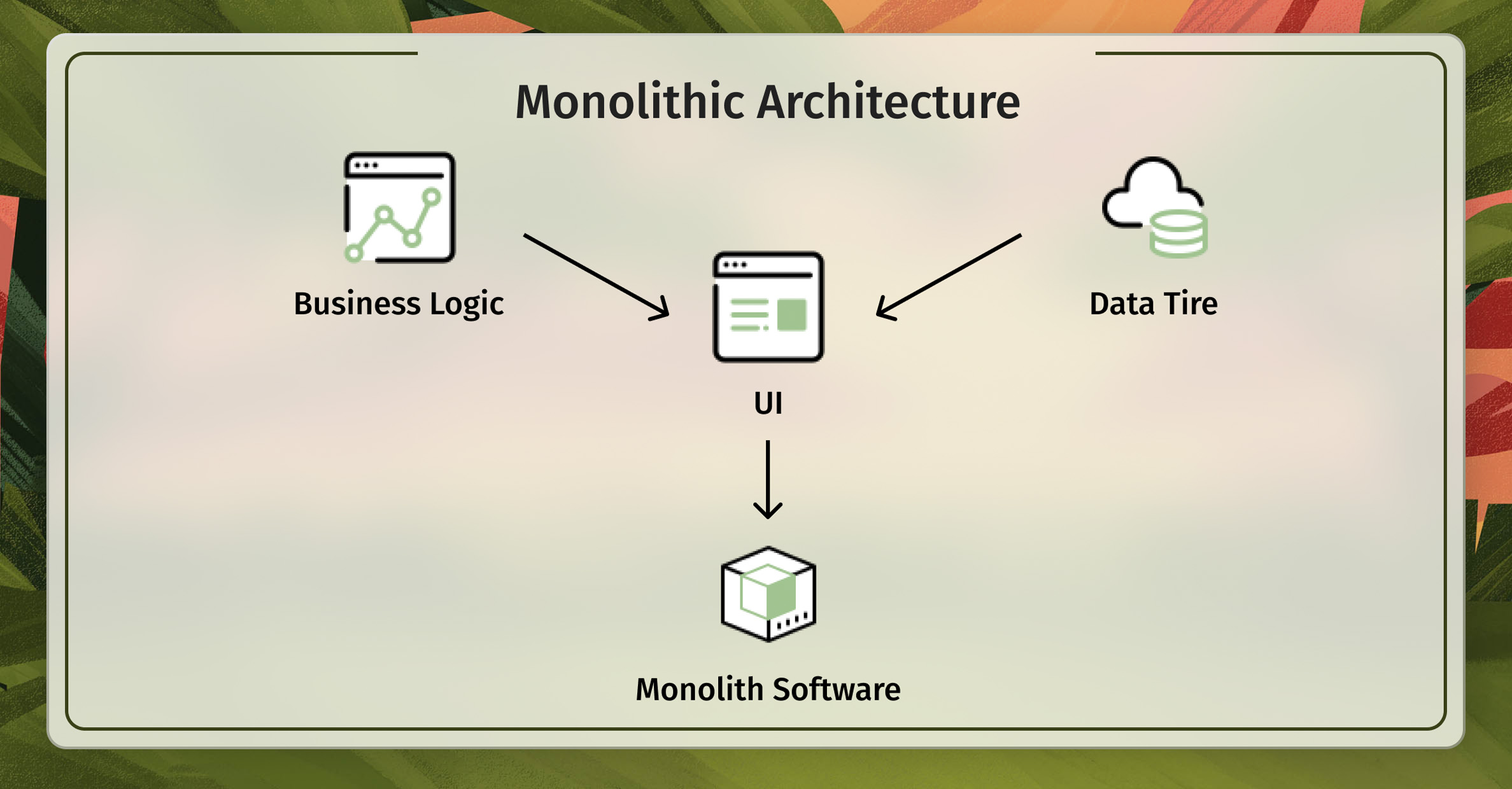 What are monolithic architecture's pros and cons? Uncomplicated building and deploying can be called a monolithic architecture advantage. Developers need to design just one single application instead of working on hundreds of updates in isolated items. Improved performance can also be named as one of the main monolith advantages. Taking microservice system software, if we needed to load one UI screen, we would have to perform more than a hundred separate API calls to over a hundred other microservices. In the case of monolith apps, it might be enough to make one API call to load the UI screen as the monolithic system has one core code. Just in terms of cons, monolithic architecture is very difficult to scale as system modules are closely connected in the app. With the codebase being so huge, all the software development cycle (SDLC) phases are slow.
What are microservices?
As opposed to monoliths, 'micro' means little and microservices stand for a set of small deployable applications that are supposed to carry out business logic. Communicating with each other via various technologies like API or HTTP protocols, these services are built separately from another and have fully autonomous deployment paths.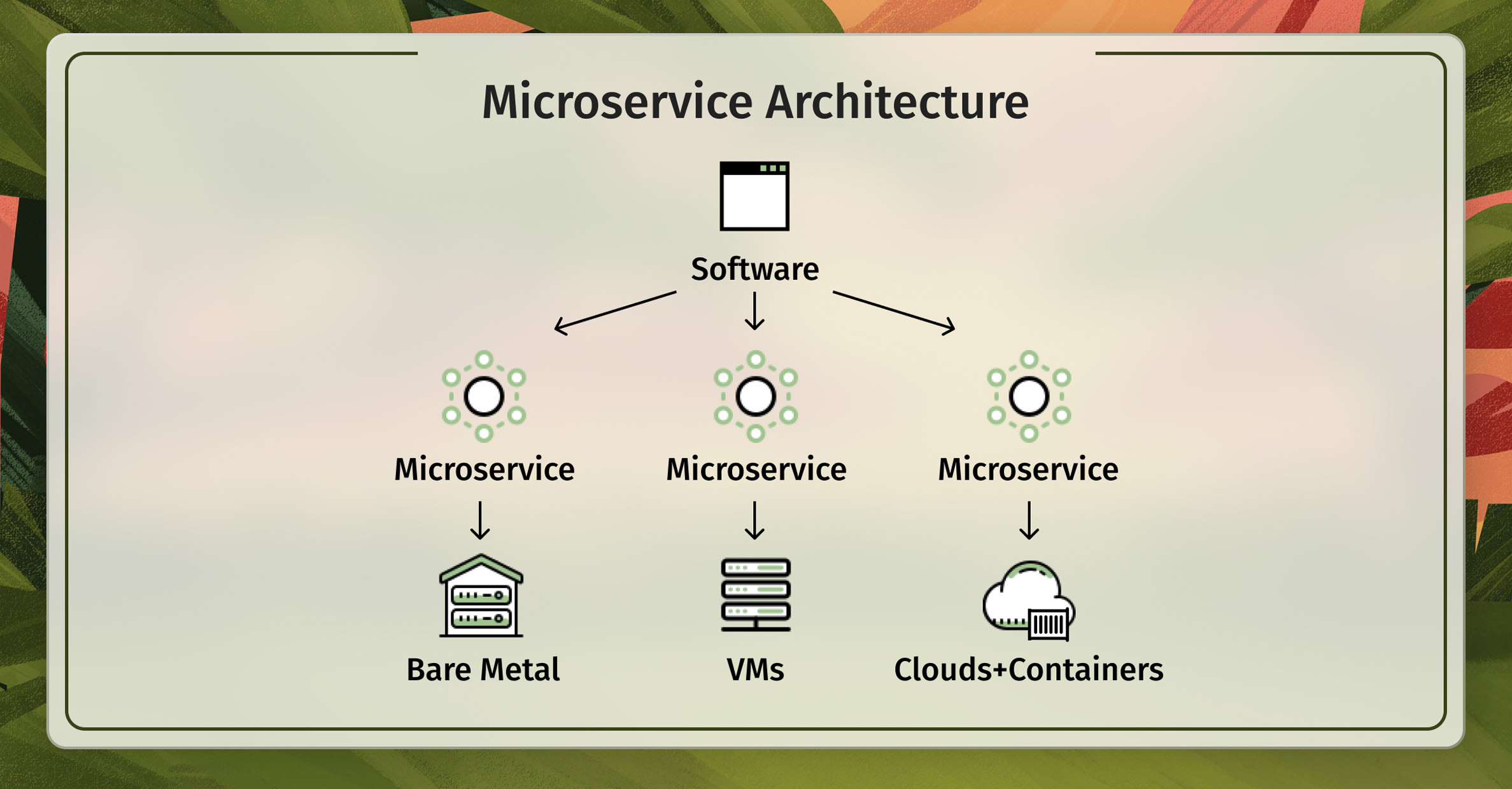 What are microservice architecture's pros and cons? Microservices are better organized as the whole base is split up into smaller services that accomplish separate assignments. Based on the fact that each specialist can work on each module individually and deploy it independently from other modules, we claim that delivery is more agile and much faster than it is with the monolithic apps. Contrary to the monolithic architecture, microservices are easily scalable, since there is no need to scale the whole system; you just change one element. Plus, microservice-style architecture is more reliable as if one module fails, it doesn't affect the whole infrastructure. It is quite challenging to design and implement a microservice architecture though. As a rule, you need more time and effort to operate all the microservices. What's more, pretty often deployment is complex due to the huge number of independent updates provided simultaneously and it's quite hard to manage the whole process. But this can be simplified with the help of deployment automation which is created by DevOps engineers.
Microservices vs Monoliths: Which one to choose?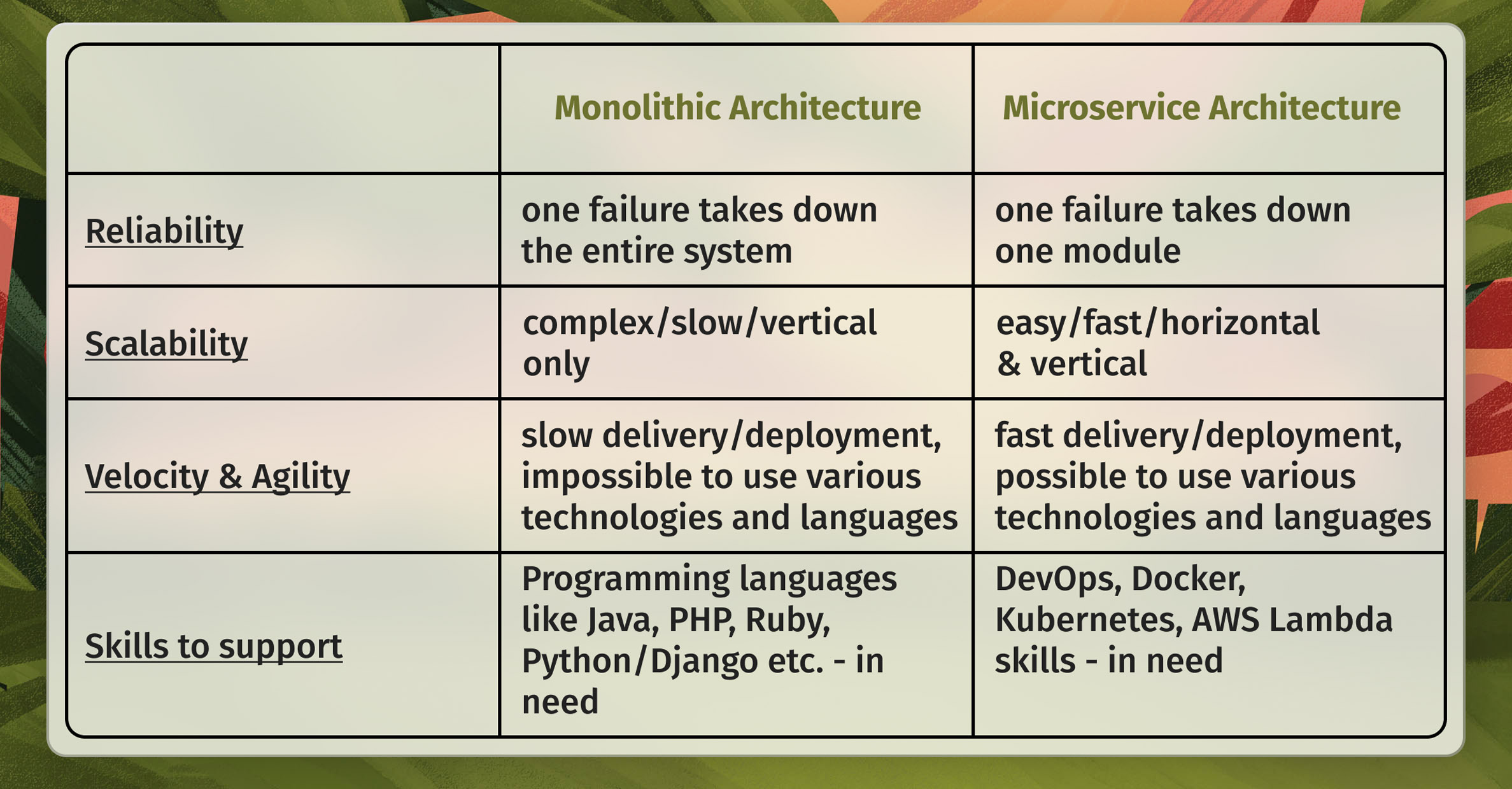 Considering all pros and cons of microservice and monolith architectures we can tell that both of them have the right to exist and which one is better for your IT business depends on what your plans are. With that, you need monolithic architecture if you:
Intend to create a small and simple software
Don't intend to extend a team
Are just at the early stage and brainstorming ideas. Your product might grow with time so don't be in a hurry to embrace a complex microservice system
Are building a minimum viable product (MVP) to gather fast feedback from your customers.
And, to the contrary, you should adopt microservices if you:
Intend to create a large-scale software
Intend to extend your team or more to that, create a couple of teams working on various separate assignments
Need to leverage different languages for backend and frontend development
Have plenty of time to thoroughly plan the project.
How to migrate from Monoliths to Microservices?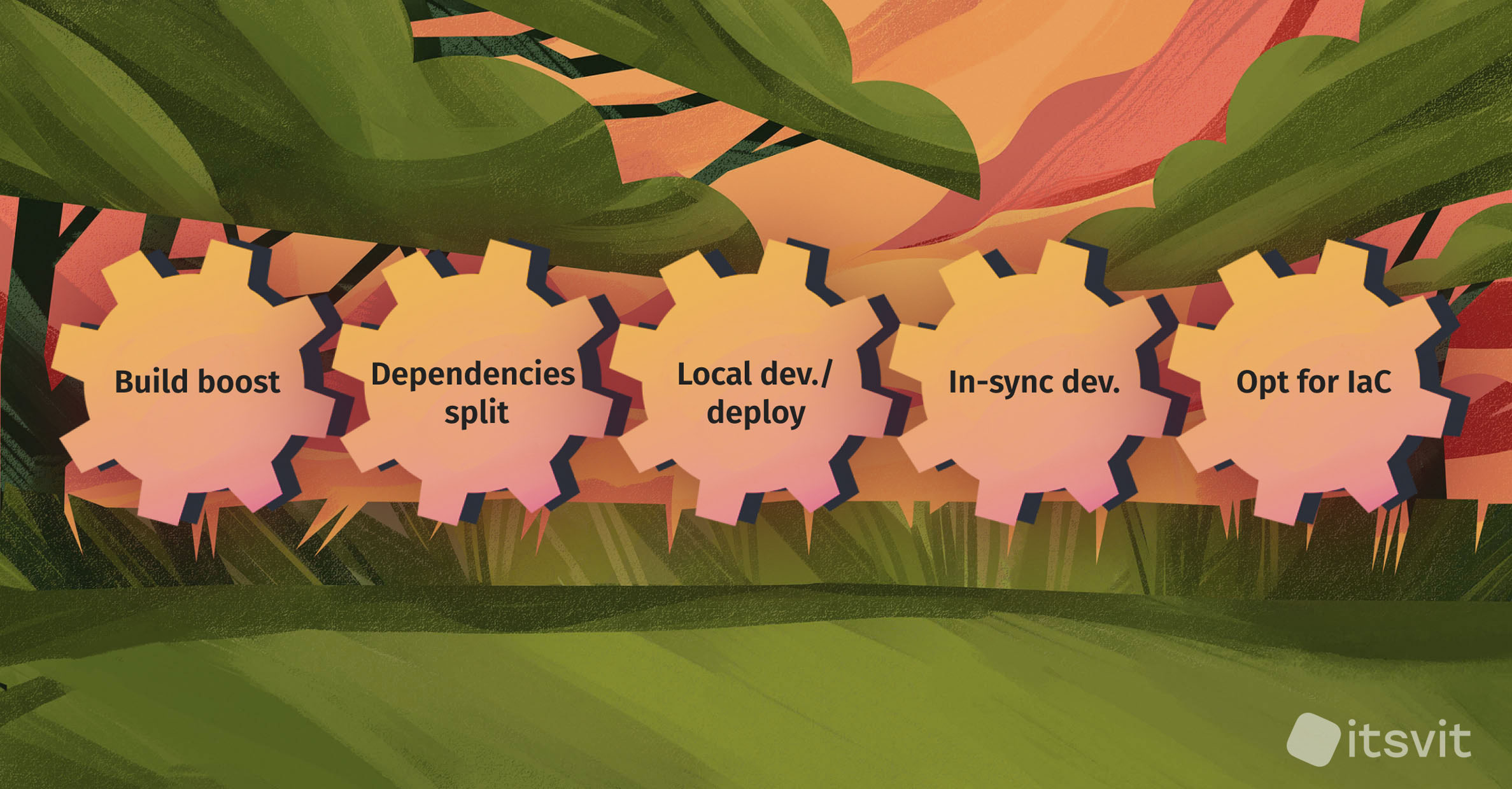 Before you move from monoliths to microservices, there are explicit application-level changes that you ought to do:
Software building optimization. Since monolithic architectures have existed for a very long time some Java projects were built utilizing ANT and Maven. The initial step is to smooth and streamline your building stage. You should get rid of dependencies, bottlenecks, and other outside factors negatively influencing your flow.
Dependencies split. When the cycle is streamlined you should eliminate the monoliths' dependencies between modules. You may need to refactor your code to accomplish decoupling.
Local development and deployment. All stages of the software development process should be conveyed in the local environment. You can use Docker containers to localize each module which will significantly speed up the software deployment.
Simultaneous development. Various branches in the core repository should serve to accomplish multiple tasks simultaneously. In plain terms, they ought to be committed to different microservices which will increase the velocity and agility of SDLC.
Infrastructure as Code (IaC) adoption. With IaC you get development processes significantly sped-up as IaC main goal is to make things faster by eliminating toil and getting rid of bottlenecks.
This 5-step migration plan might seem quite easy at the first glance. However, even at the beginning when companies are trying to optimize their building phase they face many unfortunate challenges like lack of skills in this area or teams don't see their real bottlenecks, which is often experienced most acutely by SMBs. If this is the case, you should turn to mature DevOps companies that provide microservices adoption or migration services. DevOps teams will plan and implement the cost-efficient migration strategy and will share expertise with your team.
Final thoughts
Microservices have stricken the software market a couple of years ago and immediately provoked intense debates over Microservices vs Monoliths. While microservice architecture can boast about scalability and flexibility and is a cost-efficient way for designing software, a monolithic approach has benefits of its own like easy building and better performance. However, if your choice is adopting microservices and you decide to perform migration on your own we recommend you to think carefully about what you are doing and why. Try not to focus on the activity of creating microservices, but on the outcome, you wish to get. What outcome do you think will be? If the answer to this question is clear and you do want to adopt microservices or migrate from monoliths, go ahead, but turn to professionals for designing and implementing migration strategy or at least consulting on this very time and energy-consuming matter.