How to hire a dedicated team of developers for a startup?
The most important part of a successful startup launch is creating a neat and efficient MVP. The main question one has to answer is how to hire a dedicated team of developers for a startup?
As the startup lifecycle involves investing significant time and resources into developing an MVP, the startups want guarantees of a successful and timely project completion. Hiring a dedicated team of software developers is the basis of a successful product delivery.In a perfect scenario, you already have a dedicated team of software developers who helped you accomplish a bunch of projects and who understand your requirements and expectations. In the real world, you do not have them and have to hire a dedicated development team to turn your project into reality. There are such possible courses of actions:
Searching for a dedicated team of developers by recommendation
Searching for a professional development team on the Internet
Hiring a software development team through freelancer workplaces
Contacting a team of software engineers over the social media or LinkedIn
Hiring a dedicated team for software development from a Managed Services Provider
Meeting a team of software developers on conferences, meetups, and hackathons
Let's take a closer look at the pros and cons of these approaches.
Choosing a dedicated team of developers by a word of mouth

The word of mouth and the personal advocacy is the best promotion for any services, including the software development. Some of your relatives, friends or colleagues have definitely used the help of some developers to create a website, launch a web app or deploy a business analytics solution, and can introduce them to you.
However, the important thing to keep in mind is that the technology stack differs much from the mobile app and web development, building a payment gateway or delivering a business analytics solution. Thus said, even if the dedicated software development team in question was able to deliver a great service to your friend, they might not be able to do the same for you… yet they can introduce you to the one who can. Here at IT Svit, we know this is quite an efficient approach, as around 70% of our customers are referred to us by our previous clients and partners.
Browsing the Internet to hire a dedicated team of developers

Many long-standing software development teams offer their services through their landing pages over the Internet. As creation and promotion of websites offering various software development and delivery services require lots of time and effort, the companies who do this should be serious about their jobs. To say even more, if these websites appear on the top SERPs, the teams behind them must be doing their job well.
Try searching for the keywords relevant to your project, like:
Dedicated web development services
Custom-tailored cloud solutions for startups and business
Building an MVP for startups
Full-cycle services for startups, etc.
The keywords in your search requests will be related to your project, obviously. The resulting pages will provide the contacts of multiple software development teams or their contacts on industry-specific classified advertisement websites and boards. This might even bring up the reviews from the previous customers of said teams placed on such boards.
Hiring a freelance team of developers

Websites like Upwork or Freelancer are quite popular freelancer workplaces, where multiple software development teams offer their services. These services vary from web development and mobile app development for iOS and Android to creating custom CRM or corporate eLearning systems, delivering various infrastructure solutions or providing custom development of modules for popular eCommerce platforms.
Trying to hire a reliable team of developers on these websites grants the following benefits:
Multiple filters allow specifying the search parameters precisely
Team descriptions hold in-depth details of their experience and the technology stack they use
The rating system helps evaluate the reliability of any development team
The reviews from other customers help form a holistic view of the team's performance
You can publish a job offer and the team will contact you on their own
The drawbacks of this approach include the need to decline multiple job requests from India and the chance of your job offer being reposted under another title and for a lower price, to be given to a subcontractor. Such middlemen spoil the hiring process and you risk getting a subpar quality product that will be delivered overdue.
In addition, God forbid you from trying to form a dedicated team of freelancers yourself to manage the project completion. This is a risky and effort-consuming endeavor highly prone to failure.
Contacting a dedicated software development team in the social media and on LinkedIn
One of the most obvious ways to reach out to the software development teams is contacting them through the social media like Facebook and LinkedIn. These resources have thematic groups where these developers can be found. You can post your project description there and ask for help, contacts of the worthy contractors or at least a repost. Your friends and family can do this too — sharing is caring, you know.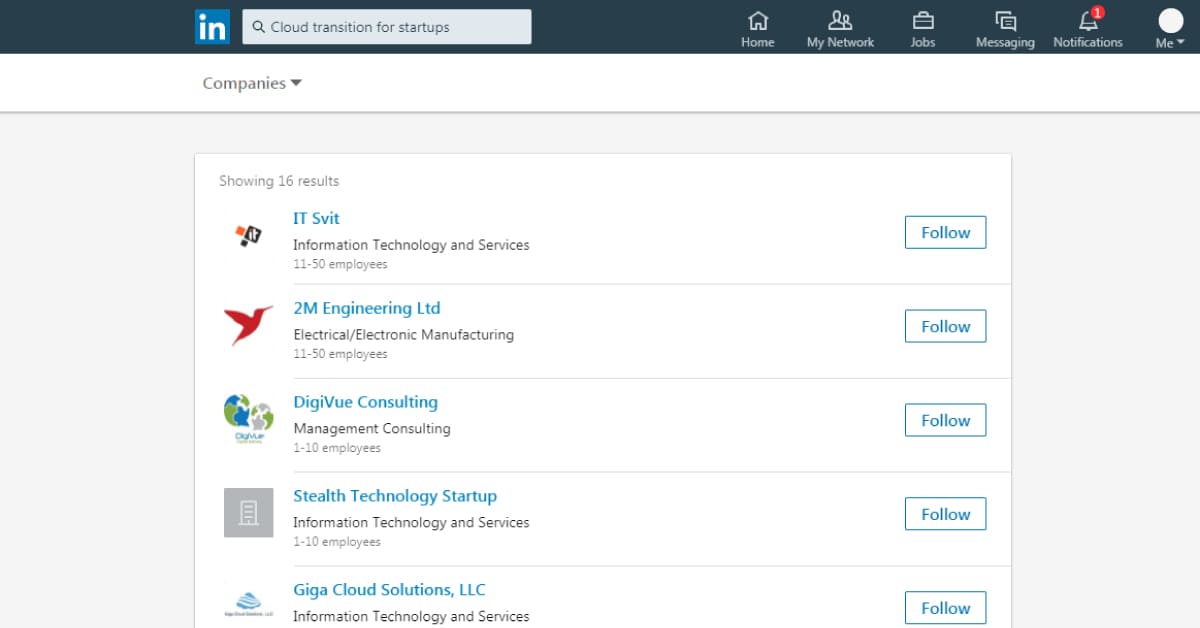 The main benefit of searching via LinkedIn is that this social network is built to connect professionals. The specialists post their portfolios there, specify their skills, and the level of their endorsements shows their overall efficiency at their job — or great soft skills 😉 To say even more, many managed services providers maintain their presence on LinkedIn and can be contacted through there. Just search for the keywords relevant to your requirements and select Companies filter to get the list of potential contractors. Browse through the results, assess the companies and contact the CEO or CTO of the most promising contractor!
Hiring a dedicated team of developers from an MSP

Using all the aforementioned methods of searching for a reliable team of developers you will often see the contacts of Managed Services Provider companies (MSPs). These firms specialize in the development of any kind of software and apps and their ongoing support. You might happen to notice the same companies on the Internet, mentioned by your acquaintances, listed on various work marketplaces, business ads boards and on the social media.
By analyzing the search results you can make the following conclusions:
If the company website appears on the 1-2 Google result page on the searches relevant to your project, the company has invested heavily in the correct SEO promotion.
If the website appears for many keywords, the company has built the right marketing and SEO strategy — and will be able to do this for your startup as well.
If the company website has a sleek and nice-looking website with intuitive design, easy navigation and fast performance, the products of this company will likely have the same features.
If the company website contains sufficient quantities of completed business cases and finished projects, along with a positive feedback from satisfied customers, the company really possesses a good stack of skills and experience, allowing it to complete your project on time and with reliable quality.
The same goes the other way. If the company website looks untidy, has complex navigation and malfunctioning buttons on various pages, it's better to avoid dealing with such a company for good. Otherwise, you risk receiving the same flaws for the product they develop for you. In addition, aside from reading the positive feedback on the website, try searching for additional reviews and feedback over the Internet. Negative reviews help form a holistic picture of the company, don't they?
Meeting a dedicated team of software developers at conferences, meetups, and hackathons

In order to remain competitive, the software developers should always continue their self-education and professional growth. This is why good software development teams often participate in various conferences, meetups, and hackathons, which are well-covered in the mass media and social media. Attend such events in your city — or neighboring IT hubs. Talk with the participants, and they will either be able to help you or will point you in the right direction. To say even more, you will be able to see the efficiency of the team's work on the hackathon.
The drawbacks of this approach are the same as with the word of mouth recommendations. You might find a great dedicated team of software developers that just does not have the needed skills to make your project a reality.
How to evaluate a dedicated software development team then?
We recommend combining all the aforementioned approaches. You will obviously not hire the first team you find, as the software development lifecycle of your product will cost several dozen thousand dollars, and you need to hire the most reliable team of developers to invest the money right. Shortlist 3-4 software development teams, evaluate their skill stacks, portfolio, website quality and positioning, feedback from their previous customers.
Note the following points:
Company experience. We do not recommend delegating complex or costly projects to young teams with less than 2-3 years of experience. Such teams either lack the needed experience or might fall apart amidst your project, leaving it in debris.
Staff size. The teams with 10 members or less are usually highly-specialized. This means there is nobody to replace the crucial team member should he or she become ill or leave altogether. We recommend working with the MSPs who are at least 30-40 men strong to ensure the project continuity and timely completion.
Company portfolio. Contact the previous customers of this company. Find out if they were satisfied with the project management and product development, team interaction and feedback response. The real reviews are the best proof of quality, and if the team has already successfully developed the products for startups — they will be able to provide high-quality services and workflows for you.
Product quality. Ask the company to provide the examples of working products and solutions they developed, or try to use the services of the previous customers. If their products are intuitive, performant and work fast — this software development team really can deliver a high-quality product.
Company website. Ask the third-party specialist to evaluate the chosen team's website. Aside from a good design, it must be functional, intuitive and well-optimized. If the team cannot do it for their own website — they will hardly be able to provide these qualities for your product.
Final thoughts on how to hire a reliable team of developers for a startup on your own
As you can see, there are quite a few ways to hire a reliable team of developers on your own. You can opt for searching through word of mouth recommendations, exploring the Internet on your own, trying to use the popular freelancer workplaces like Upwork and Freelancer, look on the social media and LinkedIn, go for contracting a Managed Service Provider or reaching out to the participants of various conferences, meetups and hackathons.
We understand the process might seem too daunting and laborious. However, it is obviously better to spend more time to hire a reliable team of software developers for your startup and accomplish the project on time. Otherwise, you risk spending the time and money dealing with an inexperienced or unscrupulous contractor. Should you want to work with one of the leaders of the IT-outsourcing market in Ukraine — contact IT Svit, as we offer full-cycle services for startups and will be glad to assist with turning your idea into a successful startup!